Learn how to connect a live stream to your Stage.
First things first, bear in mind that Arena isn't an Online Livestream Studio. Why? Well, there are so many high-quality and affordable Online Livestream Studios out there that we believe professional event planners are better off using. They tend to have much better functionality and streaming quality than the more limited setups that are often built into other virtual event platforms.
With that in mind, let's take a look at when you'd need to connect a live stream and how.
Do I need to connect a live stream?
It all depends on what Room type you're using. If you've selected 'Stage' as your Room type then yes, you'll need to connect a live stream. A Stage will allow you to broadcast to an audience of anything from 1 to 100,000.
On the other hand, if you've selected 'Video Breakout' then no, you won't need to connect a live stream. Instead, these kinds of Rooms work more similarly to web conferencing tools like Zoom, using your Webcam to display your video to others.
Video Breakouts let up to 9 people join on a video call 'on stage' and up to 100,000 more attendees watch it. They're great for smaller sessions, networking, workshops or facilitating audience discussion.
How do I connect a live stream?
You'll be able to connect a live stream when you first create your Room. However, you can come back and amend it at any time. To do so, you'll need to click 'Edit Event' beneath the event your Room is part of on your central dashboard.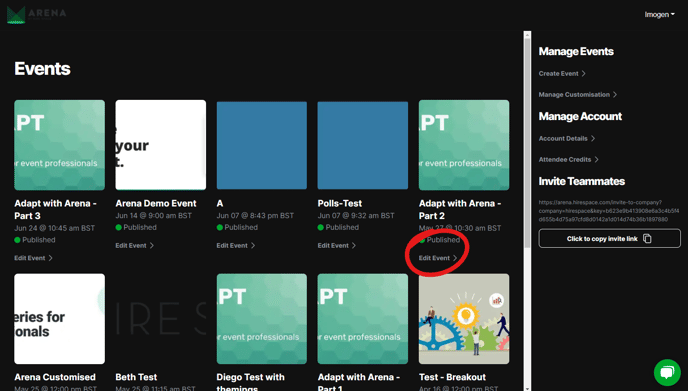 You'll then need to select the Room you wish to edit from the dropdown menu on the right-hand side of your screen, beneath the heading 'Manage Rooms.'
Once the correct Room has been selected, just click the 'Edit Room' button below it.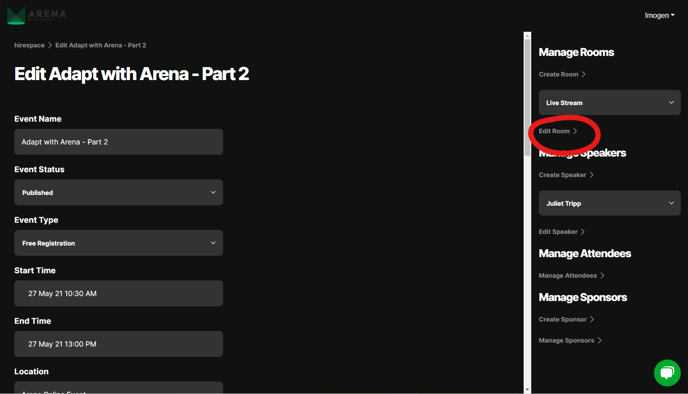 This will take you to the 'Edit Room' form where you can edit all your Room's details.
Scroll down to the 'Live Stream' section to view a dropdown menu where you can select from a list of streaming providers to connect. Can't see the list on your 'Edit Room' form? Make sure your Room type is set as 'Stage.' If it's not, you can just change it by using the 'Room Type' dropdown in the same form.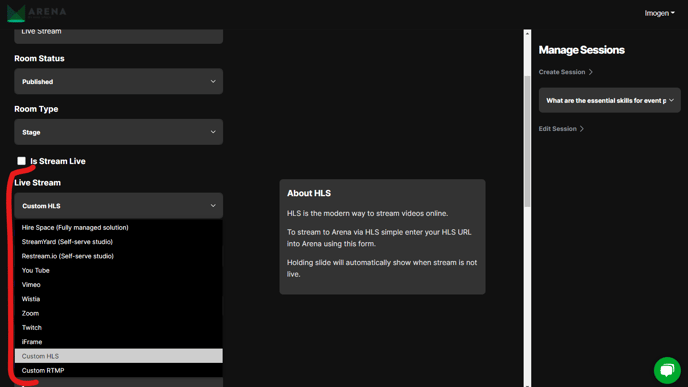 Each streaming provider will have its own criteria for connecting to Arena. Some will require you to enter a code into the streaming provider's platform. Others will generate you with a code to provide us with.
To find out exactly what you need to do to connect your live streaming provider of choice, just select it from the dropdown menu and we'll give you step-by-step instructions on what to do next.
For example, if you select Vimeo, a 'Stream ID' field will appear below, alongside instructions about where to find your Stream ID.
Or, if you select Zoom, we'll reveal the details that you'll need to enter into your Zoom account to connect, as well as the settings you'll need to enable.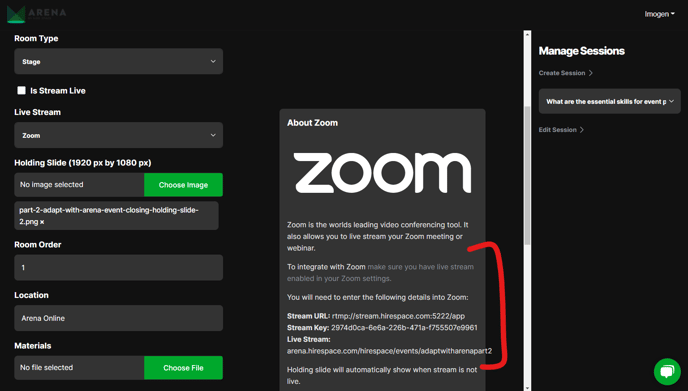 You can also select 'Hire Space (Fully managed solution)' if you'd like our experienced Live Stream Producers to manage your stream for you.
---
As you can see, every streaming provider has its own requirements. But ultimately, they all have one thing in common: connecting them to your Arena account is quick and easy! Wondering which live stream platform to connect to? Read our dedicated guide.