A clear and transparent guide to how much Arena costs, and how it can save you money
Arena is designed for event organisers, by event organisers. We understand the uncertainty and budget constraints surrounding your event planning which is why we offer the pricing which is:
Affordable
Flexible
Scalable
With zero commitment options and prices starting from £1.50 per Attendee Day, there's no reason not to get started now.
Remember, you must have one of these methods set up to publish an event and start hosting.
What's an Attendee Day?
An Attendee Day is a 100% transparent and easy way to charge for Arena. No hidden extras. We simply charge 1 Attendee Credit for each attendee that attends your event each day.
For example, if you invite 50 people to your event but only 40 people turn up, we will only charge you for 40 Attendee Credits.
Alternatively, if you host an event across 3 days where 100 people attendee the event each day, then we will change you for 300 Attendee Credits.
Looking at the detail, we think about days in terms of 5am to 5am in the timezone of the host, and we think about attendance as your guest logging in to the event. i.e. if they only visit your branded landing registration page, then there is no charge.
So, how can you purchase Attendee Credits? We let you do that in one of 3 simple ways,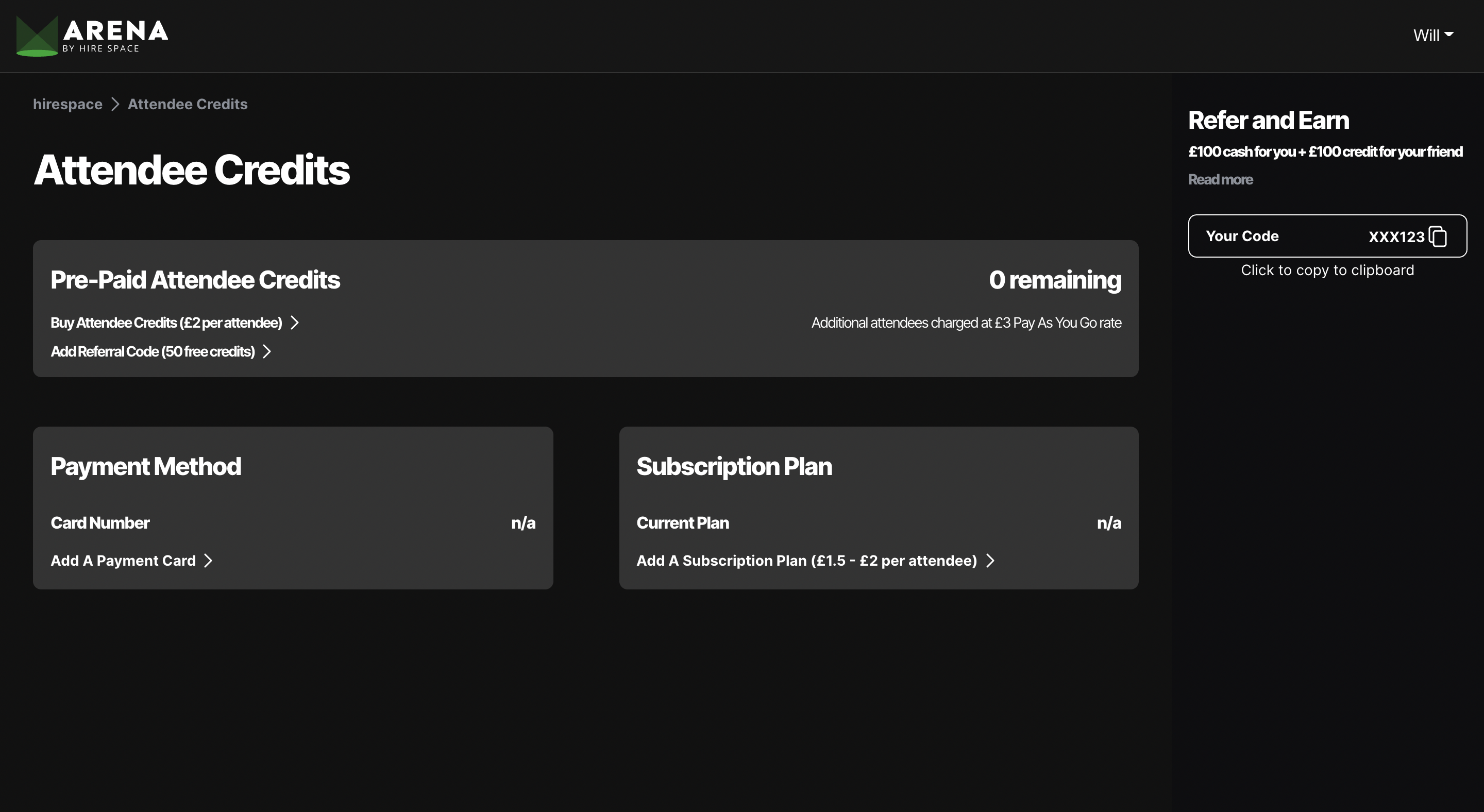 1) Pay As You Go
By simply uploading a credit or debit card to the Attendee Credits page of your account. You can navigate there from your Events Home by clicking "Manage Attendee Credits" on the left hand side.
One you are there simply click "Add A Payment Card" and enter your card details. Your card details will be stored securely and with full PCI DSS compliance.
Once you have uploaded a card you will be able to publish and host events and will be charged at the Pay As You Go rate of £5 per Attendee Day.
Pay As You Go Attendee Credits are charged on the 27th day of each month.
2) Pre-paid credits
This is the most popular and simple way to purchase credits. Simply visit your Attendee Credits page and click "Buy Attendee Credits" on the left hand side.
You will be asked to enter your credit card details and will be charged the standard rate of £2-4 per Attendee Credits which will be instantly credited to your account.
If more people show up to your event than you anticipate, and you have more attendees than Attendee Credits, then you will be simply be changed at the Pay As You Go.
If fewer people show up to your event than you anticipate, and you have Attendee Credits left over you can either use them on your next event on Arena or exchange them for Venue Vouchers which can be redeemed at any of the venues on hirespace.com. They certainly won't go to waste!
3) Subscription Plans
Our subscription plans offer the most affordable way to host events on Arena.
They are available as monthly, quarterly, or annual plans, and vary in size from 1,000 Attendee Credits up to 100,000. Simply pick the plan that's best for you.
As well as the standard credit/debit card option, plans are also available on invoice with 28 day payment terms. So if payment on invoice is important to you, then Subscription Plans will be your best option.
Prices range from £1.80 to £1.50 depending on volumes, and they can be cancelled at any time with 28 days notice before the start of the next billing cycle.
Conclusion
There are three ways to buy Attendee Credits for Arena with prices ranging from £1.50 to £3 per Attendee Day.
You can also earn credits by being referred through our referral scheme.
Just pick the best one for you and get started hosting your next event.